SFM Machinery Industry Co Ltd
SFM have been manufacturing very high specification long bed lathes for over 50 years making them one of the powerhouses of heavy engineering in their field.
From their 6000 square metre facility in Taichung the heartland of high quality machine tool manufacturing in Taiwan, SFM's highly skilled and dedicated workforce produce over 150 heavy long bed CNC lathes every year. With one of the largest product ranges of its type in the industry, SFM can also build machines to customer's specific requirements. All lathes are available with Fanuc, Fagor or Siemens controls.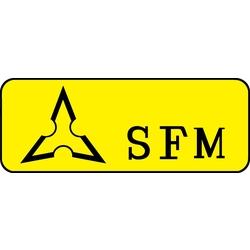 | Model | Category | Description |
| --- | --- | --- |
| | Heavy Duty Flat Bed & Oil Country Lathes | SFM CET-28 Heavy Duty Long Bed CNC Lathe |
| | Heavy Duty Flat Bed & Oil Country Lathes | SFM CET-32 Heavy Duty Long Bed CNC Lathe |
| | Heavy Duty Flat Bed & Oil Country Lathes | SFM CPT-32 Heavy Duty Long Bed CNC Lathe |
| | Heavy Duty Flat Bed & Oil Country Lathes | SFM CPT-36 Heavy Duty Long Bed CNC Lathe |
| | Heavy Duty Flat Bed & Oil Country Lathes | SFM CST-42 Heavy Duty Long Bed CNC Lathe |
| | Heavy Duty Flat Bed & Oil Country Lathes | SFM CST-46 Heavy Duty Long Bed CNC Lathe |
| | Heavy Duty Flat Bed & Oil Country Lathes | SFM CST-50 Heavy Duty Long Bed CNC Lathe |
| | Heavy Duty Flat Bed & Oil Country Lathes | SFM CHT-56 Heavy Duty Long Bed CNC Lathe |
| | Heavy Duty Flat Bed & Oil Country Lathes | SFM CHT-60 Heavy Duty Long Bed CNC Lathe |
| | Heavy Duty Flat Bed & Oil Country Lathes | SFM CHT-64 Heavy Duty Long Bed CNC Lathe |
| | Heavy Duty Flat Bed & Oil Country Lathes | SFM CMT-71 Heavy Duty Long Bed CNC Lathe |
| | Heavy Duty Flat Bed & Oil Country Lathes | SFM CMT-75 Heavy Duty Long Bed CNC Lathe |
| | Heavy Duty Flat Bed & Oil Country Lathes | SFM CMT-79 Heavy Duty Long Bed CNC Lathe |
| | Heavy Duty Flat Bed & Oil Country Lathes | SFM CLT-46 Heavy Duty Long Bed CNC Lathe |
| | Heavy Duty Flat Bed & Oil Country Lathes | SFM CLT-52 Heavy Duty Long Bed CNC Lathe |
| | Heavy Duty Flat Bed & Oil Country Lathes | SFM CLT-58 Heavy Duty Long Bed CNC Lathe |